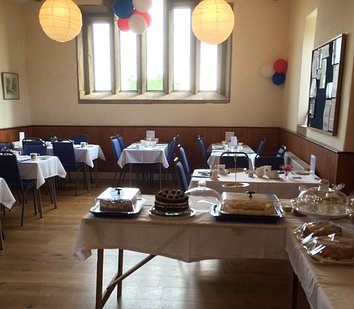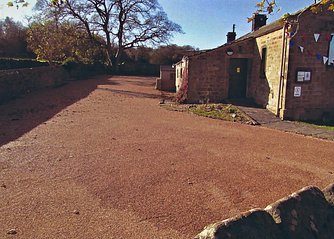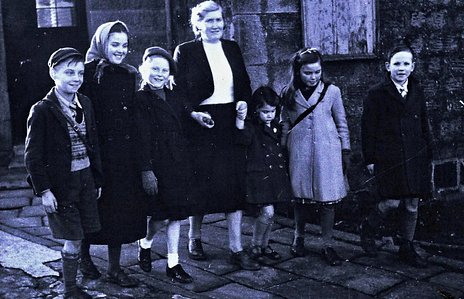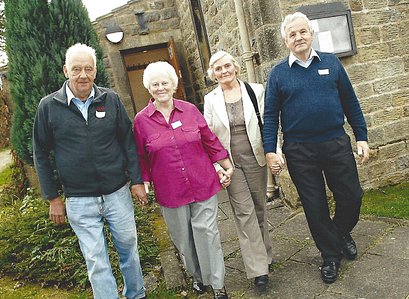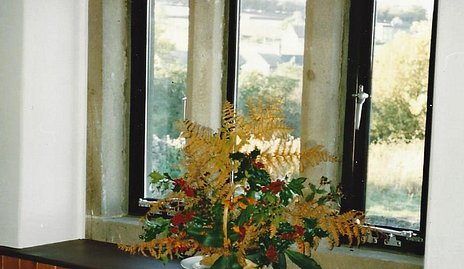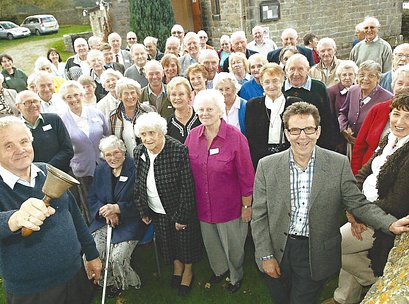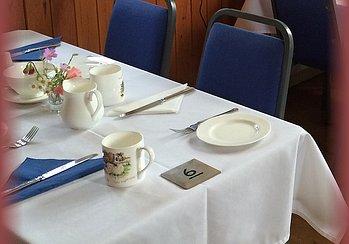 Left and above left: HMH laid out for a Saturday Brunch ready to serve its famous breakfasts and some very inviting-looking cakes.
Above: Guests for the School Reunion, 2011. David Field (front right) has found a bell for Alex Houseman (front left) to ring to celebrate the occasion.
Above Left: last day at Hookstone School 1951, and above right: a recreation of that moment at the Reunion in 2011.
With many, many thanks to Alex Houseman for the use of his treasure-trove of documents and photos.
Above: a new all-weather car-park was added in 2014.
In the early years of the twenty-first century there's been no relaxing in the drive to sustain and grow the Hall as a local resource. Carefully nutured funds have been used to add, renovate, and improve, as you can see from the photos on this page.
Generous locals have helped with such work as replacing the long windows with double-glazed units, extending the kitchen, re-laying a beautiful wooden floor in the main room, laying a brand new car park, building a small addition to the outside garden, building the lovely new porch, adding a new, specially designed front door, and completely replacing all the windows.
The creation of an all-weather car park to replace the mud and grass that had been used since time immemorial was made possible by the Big Lottery Fund which stepped in with a grant of £10,000.
That and the new front door, new porch, and all new windows would have made the school-teachers of the Hookstone School thoroughly jealous.
But the key problem still remained - how to finance the place adequately without lands or investments to provide sufficient funds to keep the building in good repair and avoid the need for a major refurbishment every thirty years or so.
So perhaps the most momentous idea of the early 21st century was that of Suzie and David Field.
They had the idea of creating a monthly "café" - a "Brunch Saturday" - to serve anyone who wanted to come, with all surplus income donated to the Hall charity. Sounds simple doesn't it!
But planning, organising and then running a full-scale café for a full day is a great deal harder than it looks. The only reason it has worked is down to the drive, energy and talents of Suzie and David, and the goodwill and commitment of a score-or-so of local people who have given their time and talents to cooking, waiting, washing up, and myriad other tasks.
The first "brunch" was held in July 2010. It attracted 19 customers. Since then the idea has caught on - so much so that brunches throughout 2016 have served 120 or so on each Saturday!
The monthly Brunches – held on the first Saturday of every month from March to December – have been an amazing success, and a major source of charity money for the Hall, which has enabled the Trustees to continue to maintain and improve the place, and to subsidise community events.
21st Century Breakthrough
It has been called by many names. In a wide variety of written references the building has been called Hookstone School, Hookstone's School, Hookstone's End School, Hookstone Church of England School, Thornthwaite Village Hall, Hookstone Hall, and Hookstone Memorial Hall.
But, when you look around outside the beautiful, well-maintained old building and then take in the way it has been carefully refurbished and modernised inside, please remember that it is only that way because generations of good and kind people have supported it with cash, time, an incredible amount of energy, and much love.
We salute those who have done their bit – whether massive or tiny – to maintain this wonderful local resource.
2011 saw the sixtieth anniversary of the closing of Hookstone School. It was celebrated in good style by ex-pupils and their friends and four of those who had walked out with Miss Bryan on that last day in 1951 repeated the walk for the cameras.