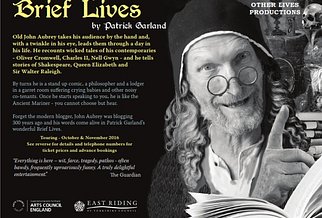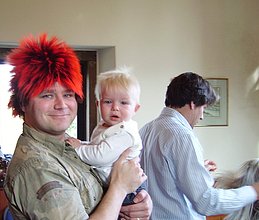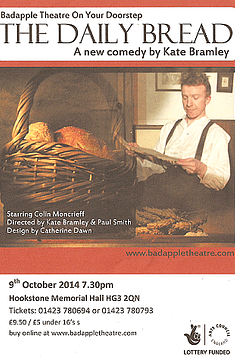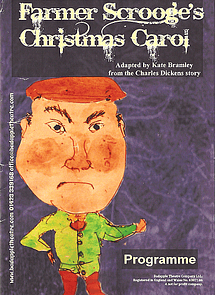 In July 2015 we held our Summer Barbecue - a day of mixed weather but Alistair's burgers went down a treat and there were plenty of cakes and treats.
HALLOWEEN AT HOOKSTONE HALL

Saturday 29TH October 2016
A Transylvanian Treat
All you ghouls and ghosts are invited to our Halloween film and ghoulish fancy dress afternoon
Float in from 2.00pm
Fancy dress judging 2.30pm
The most evil ghoul or ghost will win the prize. Judges: Mrs Linden Robson & Mrs Lesley Jakeman
followed by our fantastic film ...
HOTEL TRANSYLVANIA 2
(U Certificate)
Places are limited so get your tickets at Hookstone brunch on 3rd Sept and 1st Oct
or contact Suzie
£5 per person for entry to the film and competition, an ice cream/crisps and drink
(Kids under 16 to be accompanied by an adult please)
October 18th 2016
Patrick Garland played the world's first blogger - John Aubrey - in Brief Lives.
Our mini-theatre productions have been extremely successful and this one-man show was every bit as entertaining, informative and amusing as previous ones.
It was delivered to a full house (with tea/coffee and biscuits at the interval) and everyone had a great time.
In December 2015 the Hall presented the Badapple Theatre Company's production of an hilarious show called "Farmer Scrooge".
The adaptation of the Dickens novel "A Christmas Carol" was set in the Yorkshire Dales with a very recognisable farmer named ... well ... Scrooge, of course.
Needless to say the miserly farmer eventually saw the light and became a much better person.
The production played to a full house
The 2014 Christmas play was the Badapple Theatre Company's production of "The Daily Bread".
This was an ingeniously scripted one-man play which played to a full house and which received unanimous praise for the acting and the script.
October 2016 Competition Winner
A few months ago HMH launched a competition to attract new ideas for using the Hall. From the public and from committee members we received over 30 thoughtful suggestions. These have been the subject of much discussion and the committee is currently following up on several of the best.
The winner of the First Prize was adjudged to be J, Rose who submitted a few very good ideas and who has now been informed of her success. We'll look forward to serving the FREE full breakfasts for two!
Other prizes were won by members of the committee or their families and the prizes have therefore been very kindly foregone.
Thanks to everyone who put their thinking caps on and who took the trouble to submit suggestions. But just because there's no ongoing competition please don't hesitate to make suggestions if you think there's something the Hall should be doing (or doing better).