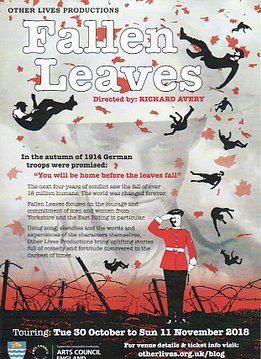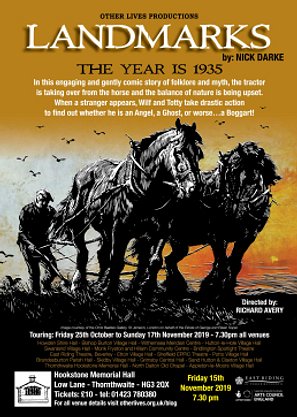 LANDMARKS
Following their very well-received shows ('Brief Lives' in 2016 and 'Fallen Leaves' last year), we welcome back the Other Lives theatre company with their latest production ..." 'Landmarks', touring to Thornthwaite Hookstone Memorial Hall
Friday 15th November 2019 7.30pm
It is the 1930s, and in the countryside the tractor is taking over from the horse. Wilf is a farmer whose traditional methods have served him well all through his hard-working life, but when his younger brother-in-law Totty insists on introducing new technology in the form of a tractor into their family business, Wilf fears that the balance of nature will be upset.
A family feud develops and things get worse when a mysterious stranger appears, and the family fear that he is possibly a ghost, or an angel, or… a Boggart - a spirit portentous of disasters. They decide to take action, but their hilarious ineptitude and the interference of the eccentric busybody Mrs Mayse have significant consequences for the family.
National Theatre and Royal Shakespeare Company playwright Nick Darke's funny and thought-provoking story has something important to say about our present concerns for the environment.
For ticket reservations (£10) ring ...
Other Lives Productions
On November 11th 1918 the terrible conflict came to an end.
It had cost over one million British lives - mostly, but not exclusively - those of young men. The names of the battles echo down the years and still bring shivers of horror - especially to those of us who had relatives fight and die during the years between 1914 and 1918.
Paschendale, Ypres, Mons, the Somme, Gallipoli - it was a war in which lethal modern weapons were pitted against older tactics, in which gas, machine guns, aircraft, and tanks tested the ability of the Generals on both sides to adapt and win.
Fallen Leaves focuses on the men and women of Yorkshire and the East Riding.
Don't miss it - tickets are £9.50
It starts at 7.30pm on Wednesday, November 7th.
The poem below is a special tribute by a local man.
It's called "Me".
Please note: Copying and transmission for personal use is permitted but commercial use is subject to copyright. All rights reserved.
Commemorating the 100th Anniversary of

the End of the Great War
Me
Strappin' lad, me
Strong as an ox, six feet in me socks.
Got me a pretty wife, Mary
And Joe, my son,
Spitting image of me.
Damned fool, me.
Came over the edge, shot the Boche,
Down like a sack o' spuds.
I leapt again to go over the top,
When the bullets hit me
Weak as a kitten, me.
In the mud I watch the sun go down,
And listen to another man die.
I can see the sky
As the breath bubbles out of me.
Damned forever, me.
I've broken my promise to return.
And Mary's face,
Oh, Mary's face,
She'll ne'er forgive me.
End like this? Me?
The light is fading fast.
But the pain's going with it,
I can't feel my bottom half..
I promised, me.
A bastard, me.
I left that sweet face crying.
Now I'll break her heart.
The pain's gone but the breathing's hard.
Shells still burst o'er me.
I promised, me.
Oh, I promised, I promised.
Mary will you ever …
Please forgive …
Me.
April 21st 2017 Across the Lake
This famous film about the efforts by Donald Campbell to beat the world water-speed record was screened at the Hall on the evening of April 21st. Anthony Hopkins played the lead role.
Organised by Alistair Proctor, it attracted a good sized audience, all of which thoroughly enjoyed the evening.
Improvements
The Hall has benefitted from substantial renovations and improvements this year. We've had all of the windows replaced, had a brand new front door constructed and fitted, and inaugurated a much needed porch.
The porch - a genuinely striking piece of design and construction - is new, but looks as though it has always been there (in fact, as though it always should have been there).
Early 2017 Remembering the Heroes
Thanks to a small grant and Suzie's excellent work, we have had an old scroll renovated. The full details are under "First World War Heroes" and the beautiful scroll is well worth seeing (it's also now on view in the Hall)
HOOKSTONE MEMORIAL HALL
LOW LANE
THORNTHWAITE
HG3 2QN
www.h-m-h.co.uk
Friday 22nd December 2017
Silver Band Evening
Hookstone Memorial Hall said a festive thank you to all the wonderful people who supported it over the past year.
On December 22nd, 2017 we held a complimentary musical evening with the Summerbridge and Dacre Silver Band.
It was a great evening with good music, mulled wine, mince pies and convivial company.
So good, in fact that we will be trying to re-arrange the same sort of evening for 2018. Keep an eye on this site or let us know through the contact form that you'd like to be notified when tickets are available.