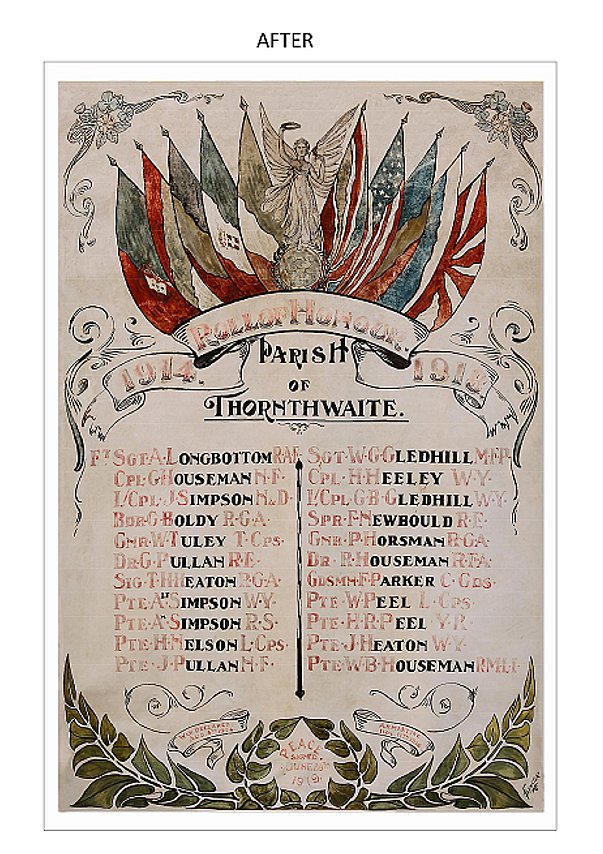 Local First World War Heroes
Susan Field has worked extremely hard over a great deal of time to research and write the histories of the local men who died for their country during the First World War. There is a great deal of information but, for those who are interested, she has created brief accounts of the lives of the men whose names appear on the Thornthwaite Scroll (see below).
Please use the following links to find the pages for each man:
The Scroll
Hookstone Memorial Hall gratefully acknowledges the funding which made the renovation of the scroll possible. It derived from the Knabs Ridge Wind Farm Community Benefit fund which is administered by the Two Ridings Community Foundation (www.trcf.org.uk)
This document took some finding! And when it was eventually tracked down in the Nidderdale Museum it was in pretty poor condition. So Susan Field took the lead in finding some money to have it restored and returned to what is arguably its rightful home - the school at which many of the men listed would have spent much of their early years.
The digital copy is shown here for interest (the title "After" refers to its condition following restoration) but a full colour version is on show in the Hall itself.
In the midst of the one hundredth anniversary of the First World War it is fitting that the names of those who gave their lives from the Thornthwaite area should be remembered. This scroll will hopefully ensure that many more generations do not forget